Passive House or passivhaus, is a building methodology to optimize occupant comfort and deliver substantial energy savings. It utilizes high levels of insulation, an air-tight building envelope and rigorous energy analysis to design and develop extremely low-energy buildings.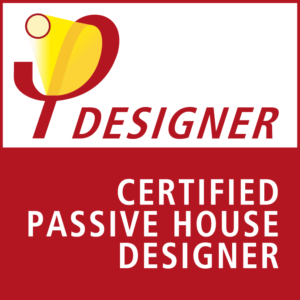 Below is an excerpt from the International Passive House Association:
Why Certified Passive House Designers/Consultants?
 "A Passive House is a building, for which thermal comfort (ISO 7730) can be achieved solely by post-heating or post-cooling of the fresh air mass which is required to achieve sufficient indoor air quality conditions – without the need for additional recirculation of air." Dr. Wolfgang Feist
Passive Houses do not look any different from other buildings. However, on account of their clearly defined energy standard, they exhibit a high level of thermal comfort and extremely small energy consumption. Good planning as well as careful execution of the details is essential in the construction of Passive House buildings, so that the high requirements for the building envelope and technology can be met. For this reason, designers and specialist planners need additional expertise which can be acquired and substantiated with the Certified Passive House Designer/Consultant training course.
For information on the differences between a Certified Passive House Designer (CPHD) and a Certified Passive House Consultant (CPHC) please see the link below:
http://www.passivhausplaner.eu/index.php?page_id=282&level1_id=239